NB. Todos os valores são por pessoa, cotados em dólares Australianos.
Período de aplicação das tarifas ==> 01/04/04-31/03/05
Itinerário
Dia 1: Chegada em Adelaide e traslado para o Hotel.

Dia 2: Tour de Meio Dia Adelaide City Tour
Enjoy a relaxing, informative morning tour highlighting the unique charm and character of our famous landmarks, parks and architecture.
Our Coach Captains will impart their local knowledge on all the city activities and places of interest, including the best shopping precincts, cafes, cultural attractions and "what's on" during your visit. The ideal introduction tour with lots of photographic opportunities.
Victoria Square featuring the three rivers fountain
River Gardens along the TorrensAdelaide Cricket Oval
University grounds and footbridge
North Terrace Cultural Precinct
St Peter's Cathedral
Colonel Light's Lookout
Montefiore Hill
Trendy East End & Hutt St Cafes
Zoological and Botanic Gardens
Bluestone and sandstone cottages and villas of North Adelaide Visit Haigh's Chocolates including tea/coffee and chocolate samples (Mon-Sat)
Festival Centre to the Zoological Gardens
Casino complex within the old Railway Station
Japanese Gardens in the South Parklands
Gouger St Cafes, Central Market and China Town
At conclusion of tour an optional river cruise* is available (not included in the fare)
*Cruise does not operate from June to August inclusive.
Dia 3: Tour de Dia Inteiro para o Barossa Valley.
The Barossa Valley is the largest wine producing region in Australia.
Premium wines, magnificent old churches, boutique wineries, cottages, traditional music, arts and crafts, all in a peaceful rural setting where each season reflects the natural beauty of the vineyards and rolling hills. This tour is a superb balance of sightseeing, wine tasting and good food presented in a relaxed, friendly manner.
Scenic tour through the spectacular Torrens Gorge
Kangaroo Creek Reservoir
Discover the secrets of the Whispering Wall
Angas Park Fruit - Angaston
Panoramic views from Mengler's Hill Lookout
Quaint villages of Bethany, Tanunda,
Lyndoch and Nuriootpa Morning tea at the German Bakery in Lyndoch, for a delicious authentic German pastry, the "Bienenstich", with tea and coffee
Visit three premium cellar doors, including wine tasting
Sumptuous 2 course lunch in the heart of the valley
Learn about viticulture and wine production at the Jacobs Creek Visitor Centre

Dia 4: Traslado do hotel para o aeroporto.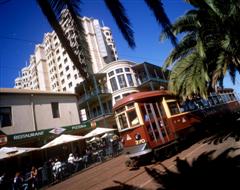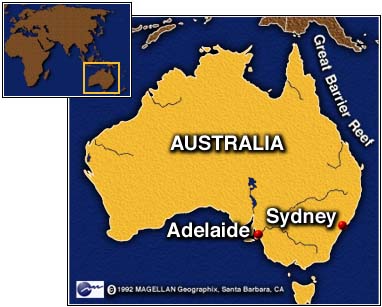 NO: Datas de black-out se aplicam a esta módulo
Clique aqui para saber mais sobre as condições deste pacote.